2020 Conference Workshops
Below is a list of 2020 Conference Workshops that you can view recordings of. Click into the workshop and follow the link to view a recording.
​
**Not all workshop have recordings
Morning Workshops >>
10AM - 11:45AM | Joint Investigations and Mediation
---
This panel will focus on two distinct but important components of charge process at the EEOC. Part I will focus on how EEOC achieves its Strategic Enforcement Plan by working with our state and federal partners such as the United States Office of Federal Contract Compliance. Panel members will talk about document sharing and joint investigations specific to the Memorandum of Understanding. Part II of this panel looks at how EEOC's mediation program helps employers and employee resolve charges shortly after they are filed. Mediation is distinctly different from EEOC's Enforcement Unit because participation is voluntary, and the parties decide the terms of settlement. Best practices to be shared. Presenters include: Kenneth An, Director, EEOC, Boston Area Office Rhonda Aubin-Smith, Director, U.S. Office of Federal Contract & Compliance Aaron Spacone, Attorney, Morgan Brown & Joy Elizabeth Marcus, Mediator, EEOC, Boston Area Office
---
10AM - 11:45AM | Opiod Crisis and Reasonable Accomodation
---
Jessica will tell her real life story and how the EEOC got involved with respect to her claim of employment discrimination on the basis of her former addiction, regarded as disabled.
Presenters include:
Jessica, former charging party who filed a claim with EEOC Boston
Habit Opco Counselor (name TBD)
Anthony M Pino Jr, Enforcement Supervisor, EEOC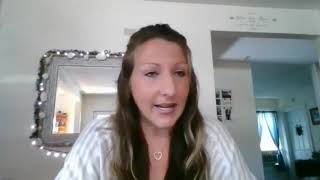 ---
10AM - 11:45AM | Police Misconduct: The Challenge of Enforcing Civil Right Protections for Victims of Racist Police Violence
---
This panel will discuss a major legal issue brought into sharp relief by the still-unfolding Black Lives Matter movement. More specifically, the panelists will examine the challenge of using federal and state civil rights law to provide civil remedies to victims of racist police violence and misconduct, including the all-important issue of qualified immunity for police. The panelists bring a range of first hand experiences and expertise to the issues raised by the protests and demands for change initiated by the Black Lives Matter movement.
Presenters include:
Luke Ryan,

Attorney

,

Sasson, Turnbull, Ryan, & Hoose

Prof. Teressa Ravenell,

Villanova Law School

Rahsaan Hall,

Attorney

,

ACLU of Mass., Director of Racial Justice

Justin Hurst,

President, Springfield City Council

Moderator, Prof. Matthew Charity, WNEU Law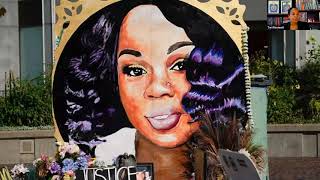 ---
10AM - 11:45AM | Paying for the Eviction Moratorium
---
The COVID-19 pandemic has left countless tenants and mortgage holders suddenly at risk of homelessness. If it had not been for prompt action in the form of eviction moratoria on the part of state and federal governments, many tenants, unexpectedly faced with a loss of income, would have already lost their housing. But rental payments that may have been deferred during these moratoria will become due as the moratoria expire, raising fears of an "eviction tsunami" when they do Likewise, landlords who continue to be without rental income find themselves increasingly unable to adequately maintain their properties, pay their mortgages or even meet their personal expenses face an increasing risk of foreclosure as the months go by. Without creative proactive action on the part of the government, we may find ourselves facing a situation where widespread homelessness is combined with the concentration of rental properties into the hands of a limited number of property conglomerates.
Focusing on the state of Massachusetts, this workshop panel will seek to consider how we might develop shared solutions to a pending crisis.
Presenters:
John Fisher,

Way Finders, Moderator

Douglas Quattrochi,

Mass Landlords

Eric Shupin,

Citizens' Housing and Planning Association

Katie Bosse,

Massachusetts Housing Partnership (MHP)

Jane L. Edmonstone,

Community Legal Aid, Central and Western MA
---
---
Afternoon Workshops >>
12PM - 1:45PM | Plenary Session: Keynote Speaker, Gillian Thomas
---
Gillian Thomas is a Senior Staff Attorney with the ACLU Women's Rights Project, where she specializes in equal employment opportunity. She previously was a Senior Trial Attorney with the U.S. Equal Employment Opportunity Commission's New York District Office and a Senior Staff Attorney with Legal Momentum (formerly NOW Legal Defense and Education Fund), where she litigated employment discrimination cases on behalf of women in male-dominated jobs, such as firefighting and law enforcement. Gillian is a graduate of Yale College and the University of Michigan Law School, where she was a contributing editor of The Michigan Journal of Race and Law. She is the author of Because of Sex: One Law, Ten Cases, and Fifty Years That Changed American Women's Lives at Work (St. Martin's Press, 2016). Her work has appeared in The New York Times, The Washington Post, The Los Angeles Times, and The Atlantic, among others.
---
2PM - 4PM | Pops Peterson: The Making of a Protest Artist
---
"Protest Artist" is a label often pinned to outspoken artists through the
decades. But what constitutes protest art? Who are artists who have worn
the title? And what conditions drive these artists to speak truth to power through their paintings, novels and songs? Pops Peterson explores these questions in his riveting multimedia presentation, "The Making of a Protest Artist."
MCAD's Artist-in-Residence, Pops Peterson, returns to the conference for another poignant multimedia speech that will inform and uplift the audience. Nationally known for his award-winning painting series, "Reinventing Rockwell," currently showing at the Norman Rockwell Museum, Pops has been featured on CBS Sunday Morning, The New
York Times and other major media. He is slated to have a solo exhibition this spring at the Massachusetts State House.

"The Making of a Protest Artist" will center on artists whose work was devoted to making political change. Peterson examines the reasons why artists were prompted to devote their work to activism and, in the second part, discusses his own personal journey from landscape and portrait painter to renown activist artist. Presenter: Pops Peterson, MCAD Artist-in-Residence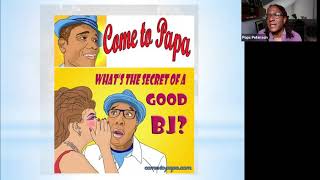 ---
2PM - 4PM | At the Border, in Detention, and in our Communities: Current Issues in Immigration Rights
---
The legal rights of immigrants – whether they be asylum seekers, lawful permanent residents or detainees - remains under attack by the federal government and adversely impacted by the COVID pandemic. Three front-line immigration attorneys will be discussing critical legal issues facing immigrants right now: How the COVID pandemic if impacting immigrant rights and procedures; conditions in ICE detention facilities; the Trump administration's curtailing the rights of asylum seekers, and; the state of \ the Delayed Action for Child Arrivals Program (DACA), the status of immigrants granted Temporary Protected Status (TPS) and the Public Charge issues facing immigrants. Presenters:
Claudia Quintero, Central West Justice
Megan Kludt, Curran Berger and Kludt
Hilary Thrasher, Central West Justice
Moderator, Maureen Carroll Dennis,
3L, WNEU Law School & Center for Social Justice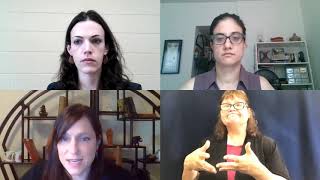 ---
2PM - 4PM | There's No Place Like Home - Legal and Economic Impediments to Fair Housing in America
---
This workshop has two interconnected parts:
Part one will address the myth that fair housing initiatives are "social engineering" that curtail the right of people to live where they choose. A review of 100 years of fair housing history reveals the real story: that where people live has indeed been socially engineered - by federal, state, and local officials - to create the segregated communities we have to this day. The only way to reverse the structural racism that is built into our communities' housing patterns is to vigorously enforce state and federal fair housing laws.
Part two will address how the fundamental desire of Americans to have a home to provide shelter and comfort has, over the last decades, been up-ended by well-known big banks and shady money launders. In the lead up to the 2008 mortgage crisis, giant financial firms preyed upon borrowers to create and trade for-profit securities linked to predatory residential mortgage loans. This housing-centered exploitation, falling hardest on households of black and brown families, has led to nearly ten million families losing their homes due to foreclosure and short sales. Separately and also harmful are the inflated housing markets in major metropolitan areas where criminal actors using shell companies and kickbacks to launder their ill-gotten gains.
Presenters:
Erin Kemple, Connecticut Fair Housing Center
Prof. Jennifer Taub, WNEU Law
Moderator, Harris Freeman, WNEU Law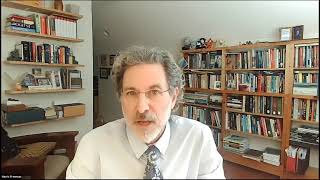 ---
2PM - 4PM | The Future of Civil Rights: Tools for Advancing Democracy
---
The focus of the workshop will be an examination of the major trends and issues in fair housing and civil rights today. Participants will not only learn the importance of these issues but why they are strategic for the future of democracy in the United States. This workshop is designed to be informative to any and all participants at the conference but will have significant impact even on those with little civil rights background. Presenters: Robert Terrell, Boston Housing Authority Nadine Cohen, Managing Attorney, Consumer Rights Unit Rahsaan Hall, Director of ACLU's Racial Justice Program David Harris, Executive Director of Charles Hamilton Houston Institute for Race and Justice Marvin Martin, Executive Director, Action for Equity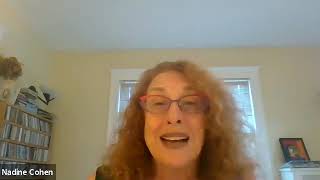 ---
---
Morning Workshops >>
10AM - 11:45AM | DOJ Enforcement of Sexual Harassment in Housing
---
This workshop will address how the U.S. Department of Justice addresses sexual harassment under the Fair Housing Act, with panelists from Massachusetts, Connecticut, Vermont, and Rhode Island discussing investigation and enforcement in their jurisdictions. Presenters: Torey B. Cummings, Assistant U.S. Attorney, District of Massachusetts Ndidi Moses, Assistant U.S. Attorney, District of Connecticut Amy Romero, Assistant U.S. Attorney, District of Rhode Island Jules Torti, Civil Chief, District of Vermont Register Here
---
10AM - 11:45AM | Fair Housing 101
---
This workshop offers a comprehensive introduction to federal and state fair housing laws (Massachusetts & neighboring states). (Housing, Race, LGBTQ+, Aging, Disability, Diversity & Inclusion, Policy, Advocacy & Ethics, Religion, Spirituality & Meaning).
Presenters:
H. John Fisher,

Way Finders
Maureen St. Cyr,

Community Legal Aid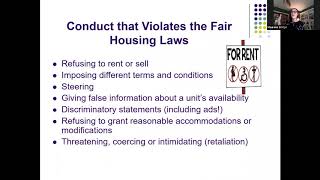 ---
10AM - 11:45AM | Affirmatively Furthering Fair Housing: Why Local Collaborations Are More Important Than Ever
---
This workshop will bring together representatives from the Pioneer Valley Planning Commission, the Massachusetts Fair Housing Center, Dpict (a graphic facilitation firm) and Alicia Zoeller from the City of Holyoke (invited) to discuss their work on developing an analysis of impediments to fair housing integrating elements of the AFFH rule on behalf of the four core cities of the Pioneer Valley region in Western Massachusetts in 2019-2020. It will also explore how municipalities and civil rights advocates can respond to HUD's recent rescission of the rule that required municipalities to conduct comprehensive analyses of impediments to fair housing. Presenters: Catherine Ratte, Land Use Planner/Manager, Pioneer Valley Planning Commission Meris Bergquist, Executive Director, Massachusetts Fair Housing Center Sita Magnuson, Experience Designer and Educator, Dpict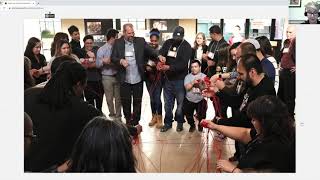 ---
10AM - 11:45AM | Building the Jail to School Pipeline
---
How can our community address the unmet potential and educational needs of the many citizens in our region who are currently or formerly incarcerated? Drawing on work being done at Holyoke Community College and across the state, panelists will discuss a new initiative to build viable pathways to two and four-year degrees. Panelists include students who were formerly incarcerated, faculty from Holyoke Community College, and educators with experience in carceral settings. Presenters: Nicole Hendricks, Holyoke Community College Mary Orisich, Holyoke Community College Sonia Mendez, Student at Westfield State University Toni Hager Cummings, Hampden County Sheriff's Department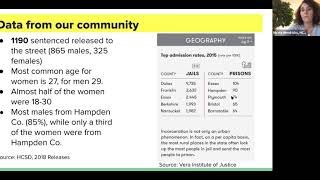 ---
---
Afternoon Workshops >>
12PM - 1:45PM | Plenary Session: Keynote Speaker, Chad Dion Lassiter
---
Chad Dion Lassiter is nationally recognized in the fields of American race relations and violence prevention among African-American males. Mr. Lassiter has worked on race, peace and poverty-related issues in Africa, Canada, Haiti, Israel and Norway and is called upon frequently by media outlets to comment on race relations and violence prevention.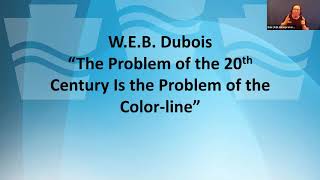 ---
2PM - 4PM | Pandemics, Protests, and Politics: Issues Impacting Voting Rights in 2020
---
With local, and national elections slated for November, communities are facing both new and ongoing challenges to ensuring fair access to the vote for all of their constituents. The coronavirus, increased political tension, and a social justice awakening are all informing this year's elections. Our panelists help to unpack these issues and their impact on the right to vote both in their communities and nationwide. Presenters: Kelly Moore, ACLU of CT Alex Psilakis, Mass Vote Brandon McGee, State Representative, CT 5th District Moderator: Kristina Mensik, Common Cause Massachusetts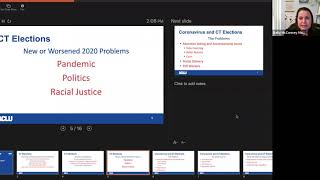 ---
2PM - 4PM | The Housing Crisis and Coronavirus
---
This workshop will discuss the impact the Coronavirus Pandemic has had on an already existing housing crisis. It will also address how America's housing crisis originated, even before this global pandemic, and how our local, state, and federal governments can address this crisis moving forward. Some of the questions our panelists hope to answer include: What are tenants to do with many federal and state eviction moratoriums over? What actions can be taken by local and state governments, or, by local grassroots organizations to assist those in need? How can our legal community best represent tenants in need? And what type of advocacy will work best to help provide resources for tenants? Presenters: Alex Cerbo '21, Western New England University School of Law David Leveillee, Rhode Island Legal Services Rose Webster, Springfield No One Leaves Joel Feldman, Heisler, Feldman & McCormick, P.C. Michael J. Doherty, Clerk Magistrate, Western Division Housing Court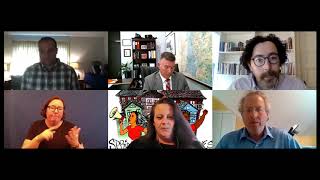 ---
---